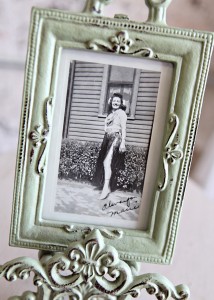 Every artist strives to make a difference with their artwork, to stimulate the senses or just to make a statement of some kind. This series of artwork is very near and dear to my heart, a culmination of my life experience, visual inspiration and values.
Visually, I have always been influenced by fashion, advertisement and pop culture. I am very interested in the way the media, advertisement and pop culture affect the way that people act, the trends in beauty, fashion and the direct effect they have on a person's self esteem.
In my personal photography work for many years now, I have been exploring my interest in portraying the stero typed "roles" that women have played throughout history, in a kitchy and theatrical way. I am particularly interested in the 1950's and 1960's when being a housewife, a nurse, secretary, teacher or an airline stewardess were some of the only acceptable jobs for women. These roles were glamorized in the pages of magazines and in the media. My mother grew up in the 1960's in a time when women were still far from equal. She played her part in the women's movement and I learned to be open minded and appreciate the part my mother and so many other women played to bring the changes in equality for women that have taken place over the past 40 years.
After receiving my BFA in Photography from Savannah College of Art and Design, I went to work for photographer David LaChapelle in New York and Los Angeles. While working with celebrities and fashion was exciting, after three years of living in Los Angeles my awareness of the lingering ways that the media still has a direct affect on the self esteem and self worth of women was very real. Through this experience, I found that this type of photography was not where my heart was and I could not see myself working long term to promote ideals that morally, I did not believe in. LaChapelle was even noted to be sexist by some, because of the way he often portrayed women in a demeaning way. This experience was so important in helping me find my voice as an artist, to "work against" the negative aspects of this industry.
Along with the influences I mentioned above, "The Original Sweethearts" are based on a photograph that I have of my grandmother. She had a girl friend take a photograph of her, dressed up in a hula outfit that was sent to my grandfather while he was serving in the army during World War Two. This was such a romantic and innocent time, when women took private photos to send to their sweethearts in the war. The pin-up girls of the 1940's where based on starletts and the idea of a "perfect woman" of that time (this is actually the definition of pin-up, a photo or drawing of a woman worthy of being pinned-up on the wall). Most artists that specialized in Pin-up art at that time were men, such as Vargas, who I believe to be the most well-known pin-up artist of that time. Most people have heard the term "Vargas- girls". I also mentioned above that I am deeply influenced by the 1950's and 1960's when the "roles" of  women were hyped in the media and widely seen on the pages of Glamour magazine and other magazine's that targeted women.
The idea behind the images, while based on these influences, has a moral standing. I am a woman, photographing women with a fun-loving intention. Makeup application, hairstyling, clothing styling and the photo shoot create an experience, like a day at the spa. I strive to make my clients feel comfortable, classy and pampered, like a vintage starlett . Unlike "boudoir" photography, feeling and looking sexy does not require wearing only lingerie, there is a fine line to walk to stay "classy" and classic. The end result is unique artwork, a self portrait, celebrating being a woman and loving fashion without being a so called "fashion model". Women of all ages, heights and weight are encouraged to love themselves and participate in the experience.
For a limited time, I am offering a special all-inclusive Original Sweetheart package that includes lunch and champagne. Share the experience with a friend, two sweethearts can be photographed on the same day and each person receives their own unique photographic work of art!  Men, packages make a wonderful and unique gift for your sweetheart. Ladies, while these photographs are for you, I am sure the significant other in your life would also appreciate receiving a framed, signed piece of artwork featuring his sweetheart.  Brides to be, you have worked hard to look and feel your best in that dress, celebrate with a sweetheart session and surprise him on the wedding day with the gift of artwork!  Please call (336) 638-4176 or email, katiekleinphoto@gmail.com for details, pricing and to set up a session date.
Sweetheart: Rachel Davis Dyer;  Photography, Makeup application and Clothing Styling: Katie Klein;  Lighting: Johnny Davis; Hair Styling: Kandice Russell; Clothing: Design Archives.