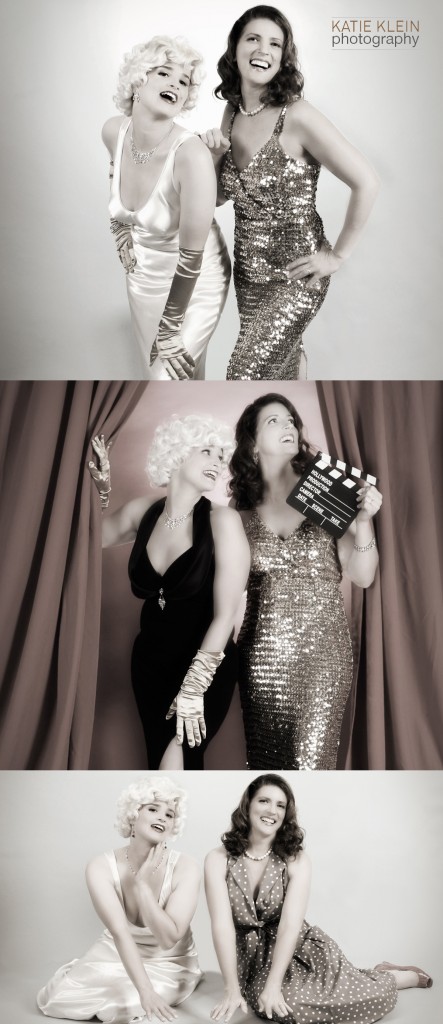 Several years ago, I had the pleasure of photographing Shauna & Rosemary's wedding.  Their beautiful wedding took place at The Proximity Hotel about a year before same-sex marriage was legalized in N.C.  Shauna and Rosemary's wedding decor was inspired by Old Hollywood, so it reminded me so much of the theme of this year's GGF Gala that I had the honor of photographing recently at The Proximity.  Below are a few images from the engagement shoot I did for Shauna and Rosemary a few years ago, to use for their wedding save the date invite!  We did the session in my "Original Sweethearts" vintage photography style as….you guessed it…Marilyn Monroe and Jane Russell, such lovely ladies! Thank you for allowing me to show you two off once again in this throwback! I will be sharing some of their Proximity Wedding photos later this week, so stay tuned and check back…..
I just love Dennis & Nancy Quaintance and how they always stay true to their values, especially within their company Quaintance-Weaver. Equal rights are honored and love and commitment is celebrated between all people. Last year, the 2015 GGF Gala also took place at The Proximity Hotel and was themed, equal marriage rights for all! A few same-sex couples actually tied the knot that very day during the event! The entire Proximity Hotel was transformed into one of the biggest and most grand Gala parties that has even taken place in this neck of the woods. We are so lucky to have such great venues in this area for events. I photograph many weddings at The Proximity and O.Henry Hotels and every event is unique and every detail is flawlessly taken care of by the staff.
When I was asked to photograph the 2016 GGF Gala, I was so excited… the Gala actually took place on My birthday, March 19th and I had so much fun playing dress up in my Old Hollywood vintage attire! I just released the recent 2016 Gala image gallery, you can view the images by logging in with the information below.
To view the gallery, please visit 
http://www.enjoyphotos.com
, and fill in the following information: (copy and paste info below to get into the gallery!)
Username: 2016 GGF Gala
Password: 14179